Overview of commercial and free thesauri
GoldenDict
GoldenDict [27] combines different sources under a unified user interface. The desktop application is based on Qt and Webkit-Framework [28]. The Ubuntu program package can be found under goldendict .
This program serves as an interface to various dictionaries and data sources including Wikipedia, Wiktionary, and WordNet in order to derive and compile the information. As a user, you can specify which program channels to evaluate in the settings. In the input box at the top left, you must first enter a search item. Then, similar items from which you can select will appear in the left column. In the middle column, you will see the search results, and in the right column you will see the sources the app used (Figure 7).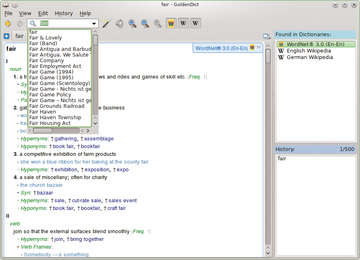 The term "fair" was used in the example query for Wikipedia in both German and English, as well as on the WordNet databank. The latter is shown as an edited search result here.
To use a thesaurus based on WordNet, you will need the goldendict-wordnet package from the package sources, which will let you connect the two projects together.
Wiktionary
Wiktionary [29] is one of the more impressive Wikipedia offshoots with its now more than 370,000 entries in more than 200 languages.
Although Wiktionary is primarily used as a dictionary, it records hyphenation rules, pronunciation, meaning, origin, synonyms, and antonyms (Figure 8). Additionally, Wiktionary is used mainly from a web browser, although there is an API to integrate it within your own projects online [30].