LibreOffice: Fonts, page color, and the magic number
Working with Fonts
Fonts are set on the Font tab of a paragraph or character style (Figure 1). On the Font tab, each font has three basic characteristics: its family (known outside LibreOffice as the typeface), style , and size . Fonts can be further modified by features on the Font Effect tab, where formatting features such as the font color are set.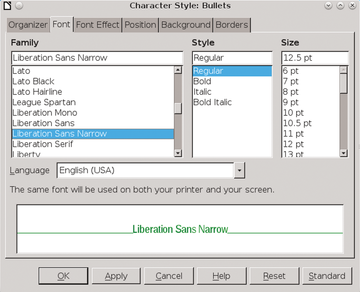 Fonts can be classified in several ways, but the most common are by design characteristics. The main categories are:



Other categories include Decorative, Script, and Dingbats, but none are common in text-heavy documents.
Font Styles
Different members of a font family are often called weights. This term refers to the thickness of the lines that make up the individual letters. In character and paragraph styles, LibreOffice refers to a weight as a font style .
Using the term "font styles" makes sense, because weights are not always defined by thickness of line. An italic weight, for example, is defined by the text being both angled to the right and rounded. The most common font styles include the following:



Another way to classify fonts has become popular thanks to the use of CSS style sheets on web page (Table 1).
| Numeric | Descriptive |
| --- | --- |
| 100 | Extra Light |
| 200 | Light |
| 300 | Book |
| 400 | Regular, Roman |
| 500 | Medium |
| 600 | Semi-Bold/Demi-bold |
| 700 | Bold |
| 800 | Heavy, Extra, Black |
| 900 | Ultra, Extra |