Rodent data manager tries to score with additional features
Personal Preferences
In the context menu, the last entry provides access to settings. Apart from the general parameters for font, icons, and key shortcuts, the Desktop tab lets you disable Show Desktop Grid if you want to avoid icons that are becoming unfashionable. At this point, you can also disable showing the background image.
On the Environment Variables tab is a sort of new version of the Gconf editor that looks a bit like the Windows Registry editor. Here you get everything you can set, some of which has not (yet) made it to the menus. Descriptions of the variables are missing, but their meanings can be inferred from the names or values.
Some of the elements that at first may seem cryptic are nothing but commands that the application uses for various file operations. Their usefulness depends on how comfortable you are with tools from the GNU world. The file operations directly rely on them and can't be easily adapted to other tools. Rodent doesn't provide tool tips or other help, so a glance at the man pages might explain things.
Fans of the keyboard are a main target group; hence, you'll find the Set up Keyboard Shortcuts button in the general settings (Figure 4). Open a line and select a value in the Value column to change it. This sets up the shortcut only; clicking the icon or the value has no effect.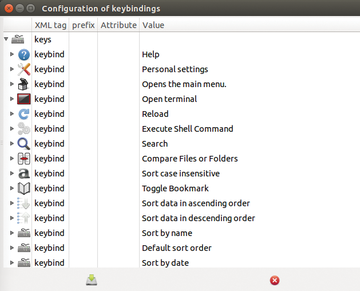 For opening files, the program uses the mappings of the MIME types indicated by the system. The desktop files that each program installs set the assignments. The software can also open files with programs not listed there (Figure 5). However, there is no easy way to save these assignments – the only option is to create your own desktop file in the ~/.local/share/applications file.
The 10 displayed buttons in the toolbar have no defined limitation. In General | Set up Toolbar , you can expand the toolbar, with dozens more available entries. Even without a real menu bar, this makes access to the functions much easier.
Incompatible
Additionally, a certain incompatibility with integrated work environments is noticeable. Rodent feels much better in combination with a simple window manager, especially when the concept goes beyond that of a file manager and assumes some of the functions of a full desktop. Many errors emerged in KDE in combination with the standard Oxygen theme, but Rodent had no problem with the more simple LXQt.
Some of the language translations were a bit inconclusive, and some of the context menus were inaccurate as well – requiring some study to make sense of them.