Screenshots with Shutter
Configuration
Shutter provides unusually extensive configuration options in its Edit | Settings menu. On the General tab, you define the default storage format along with various options for automatic backup of screenshots. The available storage formats that appear in the File Type dialog are PNG, JPEG, and BMP.
On the Advanced tab, you set the screenshot size and capture area options. If you want to include menus and tooltips, it's suggested that you set a capture delay of a few seconds – because tooltips usually appear only after a one- or two-second delay. Even complex hierarchical menus need some delay time before you can reach the desired item.
The Actions tab lets you define what you want to use as an image editing tool after the capture. The default is the integrated Shutter editor, which provides an efficient tool on a smaller scale. Other important settings can be found on the Behavior tab, such as the startup nature, alerts, window settings, and removal routines.
The Upload tab allows an uncomplicated saving of the screenshots through various cloud services, such as TwitPic, Imgur, or ImageBanana. You can upload the images anonymously there or under your own account – that is, authorized . If you choose the latter option, you will need to add your username and password for the service in the configuration dialog.
To upload screenshots to your infrastructure, enter the setting under Protocol for Data Transfer (FTP) . In this case, the screenshot can be saved in the cloud without going over a web page or a third-party program. Just click the Export button in the toolbar and choose the desired service from the list (Figure 3).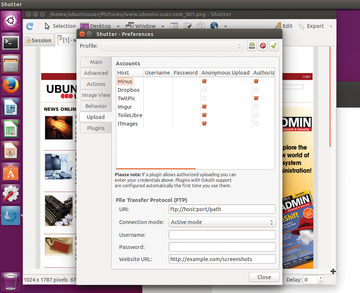 Shutter also has a command-line option that provides an extensive set of parameters that accompany those of the graphical interface. To see all the options, you can enter the shutter --help command.
Profiles
Certain types of screenshots always require the same settings. To avoid having to configure options over and over again in the dialog, you can save them in a profile. You can do this by clicking the stylized hard disk icon button in the upper right and entering a distinguishing name for the profile.
Shutter saves the new profile on the Save button. To use the predefined profile for a later screenshot, open the Edit menu and choose Profile Selection .