Screenshots with Shutter
Extensions
The Plugins tab includes the various extensions that you can get for the software. The available plugins allow customizing screenshots with effect filters. You get to the corresponding dialog by selecting Screenshot | Execute Plugin . There, you can choose the plugin you want to use.
Other plugins are also available, such as Drop Shadows or Watermarks , along with a few less useful ones, such as Barrel Distortion or Inversion .
The fact that some of the plugins were less than optimal was shown during testing with Watermarks : When modifying the display position, Shutter crashed unceremoniously after accepting the changes.
Final Touches
After creating a screenshot with the desired settings, the software shows it in the free area of the window. Shutter attaches the screenshots to separate tabs and stores them at the same time in the configured images folder.
Shutter also activates two additional buttons on the right edge of the menu bar. Clicking the left button opens the editor window where the screenshot appears enlarged.
Above it, you'll see various function buttons with which you can save the screenshot, enlarge it, reduce it, undo the last action, or save the image on the clipboard. You can also move other screenshots from the clipboard to the window.
On the left side of the editor window, you'll find vertically organized icons similar to those in the Gimp toolbox, with the functions to match. With these tools, you can highlight parts of screenshots using lines, arrows, rectangles, or circles (Figure 4).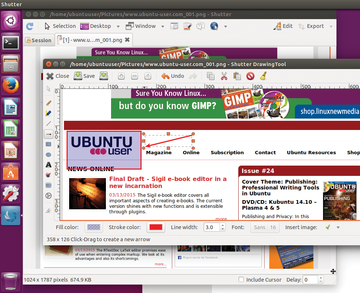 The toolbar also includes functions that let you select text passages or pixelate certain areas. A censorship function covers any affected areas with a gray screen and makes them virtually unrecognizable. Finally, a cropping function lets you extract vital areas from the screenshots.
If the editing functions don't suit your purposes, you can use Screenshot | Open with… to open an external editing program. The resulting dialog shows all the graphics programs that are resident on the system. This feature avoids any annoying detour to a save dialog and the subsequent manual launch of an image editing program.
Our tests with version 0.90.1 under openSUSE 13.2, however, showed that the software was not fully mature. Although the Settings | Open with… window listed all the installed graphics programs, the above-mentioned dialog remained empty.