Editing videos with Pitivi and OpenShot
Animated Titles
Text and subtitles are inserted into the video via the Title | New Title … and New Animated Title … menu. The first option generates static title graphics in SVG format with the help of prescribed layouts. Tapping in the Title Editor dialog on Use Advanced Editor causes OpenShot to transfer the image to the vector-based drawing program Inkscape [9]. This program gives the user free rein in constructing a title.
OpenShot can also call upon Blender for title animation. Blender is an open source computer graphics program that has been seamlessly connected to OpenShot. OpenShot transfers a prepared project to Blender, which you can simply adjust for the text and settings (Figure 7).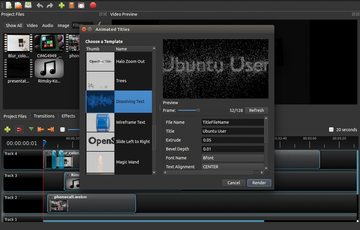 In general, however, you will still find a lot of rough edges in the Beta version of OpenShot 2.0. As a result, we could not put it through the paces of an endurance test in the lab. Moreover, the program consistently crashes when certain actions are performed. Thus, successfully completing a video project with OpenShot 2.0 was impossible. This initial version is nonetheless convincing in its promise for the future. The $45,000 collected via Kickstarter [10] was not spent in vain, although it took more than three years to complete OpenShot 2.0.
Conclusion
The observations about the current and future versions of the two products presented here show somewhat patchy performance with respect to video editing in Linux. The ideal approach would be to combine the stability found in OpenShot 1.4.3 with the Pitivi 0.95 interface and the cross-fades integration capability of OpenShot 2.0 Beta. Then, the outlook for a straightforward Linux application for editing videos would be quite rosy. Currently, Pitivi and OpenShot still need to become more mature. l
Installing Pitivi on Ubuntu 16.04 is surprisingly painless, in that the current version in the Ubuntu Xenial repositories is completely up to date. This means there's no need to mess around with PPAs.
Just run:
sudo apt update
# or apt-get update if you are on something older than 16.04.
and:
sudo apt install pitivi
# or apt-get install
and you're done.
In testing, however, we were unable to find the program in the Ubuntu launcher. If this happens, no biggie: Just type pitivi into a terminal window and the editor will launch from there.