RebeccaBlackOS with Wayland instead of X11
Weston
Wayland's standard compositor Weston provides very good insights into Wayland's current state of development. This environment is tuned for best possible Wayland support and already has some features that belong to the standard repertoires of the "major league" desktops. For example, Weston can already display overlapping windows; the program comes with a simple application menu, and windows can be moved freely on the desktop. Thanks to the integration of many widgets, especially from the KDE and Enlightenment collection, several programs are already available on Weston, and you can actually work quite productively (Figure 2).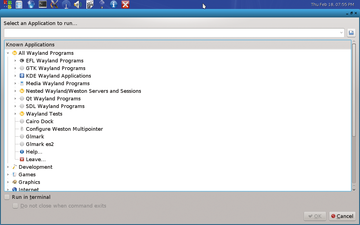 You can access the main menu in Weston in the home screen by clicking on the Start button top left in the panel. However, in contrast to more established desktops, you still cannot flexibly adjust the panel in Weston: Although there are several application launchers – and a small date and time display – they are fixed and cannot be edited. Additionally, you will also miss the ability to open a context menu, as on other desktops, by right-clicking on icons. The panel also does not display the active applications. You can, however, open multiple instances of the same program on your desktop.
Weston does not support drag-and-drop actions at this time. If you want to move, for example, a file between two instances of Dolphin, you need to do so by diverting to the shortcut menu to copy and paste. Other useful features such as virtual desktops are also still missing Weston.
The compositor can be managed using keyboard commands in many cases; the Super key plays a central role here. In the Help menu, which can be accessed by clicking on the Info button in the panel bar, you can access detailed information on controlling the compositor (Figure 3).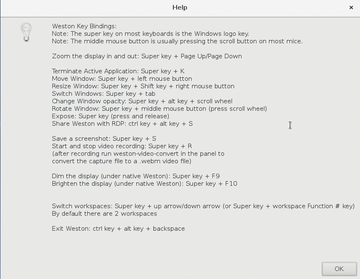 In testing, we did not like the fact that some of the predefined commands had no effect at all: For example, the brightness of the screen on our lab machine never dimmed despite trying out various settings, according to the Weston Help, the keyboard shortcuts Super+F9 or Super+F10 should work. Other options that can be controlled purely by keyboard – such as opening a new virtual desktop – also failed to work on various test devices.
Inconsistent
Weston can display all the programs available on RebeccaBlackOS on the desktop – as can the KDE Plasma desktop and the Gnome Shell. However, you will notice that there is still no uniform presentation of each window: For example, the system displays KDE applications differently from GTK+-based applications. And, software taken from Enlightenment uses yet another disguise. Sometimes, even the title bars are missing from the program windows so that the Weston desktop can easily become confusing if you have many programs open (Figure 4).