RebeccaBlackOS with Wayland instead of X11
Stationary?
RebeccaBlackOS can also be permanently installed on a mass storage device – at least in theory. To do this, you will find matching program launchers in the graphical interfaces that call the Calamares framework. Calamares comes from Manjaro Linux and KaOS and provides a distribution-independent, configurable installation routine.
However, we encountered reproducibly unsolvable problems with the duo of Wayland/Calamares in all desktop environments on various lab machines on RebeccaBlackOS: Calling Calamares opened the corresponding application window with unreadable content (Figure 6). On Enlightenment E20, the Calamares window did not even appear; instead the application immediately crashed without any logging. On KDE, there were clearly visible display issues with other windows and dialogs after closing the unreadable Calamares window, which meant restarting the system.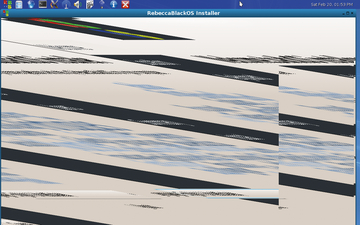 These difficulties were reproducible on several machines with different hardware. To install RebeccaBlackOS despite this massive bug, you need to launch Calamares administrative privileges as an Xwayland application. To do so, type wlsudo xwaylandapp calamares in a terminal. The installation routine then launches without any errors, and you can install RebeccaBlackOS.
Conclusions
RebeccaBlackOS provides a quite comprehensive snapshot of Wayland development. We particularly liked the ability to quickly switch between the different desktops and thus check out the current state of development in the various environments within seconds.
However, the distribution also very clearly shows that the replacement for the 30-year-old X window system will not be here within a few months – if it is a core component of the operating system. The to-do list is still painfully long. Besides missing features like copy and paste, developers mainly need to address the partly defective window dressing and, in places, improve the inadequate options for manually changing windows.
For wider acceptance, Wayland also needs a substantial number of natively controlled programs that no longer rely on an intermediate layer and can thereby harvest Wayland's actual benefits. Because Fedora, as the first established distribution, has already scheduled Wayland Version 24 (for June 7, 2016) as its standard protocol, monitoring development in the coming months will certainly be exciting.