Bad Stuff About Facebook, But Not What You Think
I'm going to start this Ubuntu-User blog entry with an apology combined with a bit of an explanation. I'm going to talk about Facebook. Yes, me too -- I'm sorry.You all know what Facebook is, of course.With nearly 3 out of ever 4 intelligent beings in the known universe having their own Facebook page, it's a social networking behemoth. Facebook is so cool and so popular, everyone has either done it, is doing it, or plans on doing it. But a cursory scan of the news will tell you that it's not all rosy for Facebook.
Everywhere you turn today, there's a news story about how evil Facebook is, specifically when it comes to their (ahem, alleged) disregard for privacy and the sanctity of their users' personal space. If you are at all curious about what you are sharing without knowing, check out Openbook. It's difficult for individuals to protect their personal information or make any kind of change to their security settings. Famous faces from the book are shouting "Enough!" and cancelling their Facebook accounts. Quitting, as it turns out, is not as easy as it sounds; Facebook makes it very difficult to delete your account. Consequently, there are sites and posts telling you what you have to do to quit Facebook, and it isn't easy, so pay attention to those guides if you want to leave. Meanwhile, be very careful about saying bad things about Facebook or you could get banned from the site, as happened to a radio station that dared link to Leo Laporte's sayonara Facebook show. The way Facebook is treating negative comments and bad press, you'd think they were Apple.
Kidding. Sort of. But I digress . . .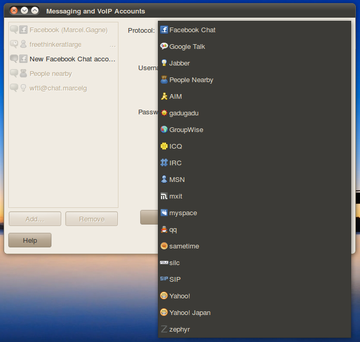 Ubuntu 10.04 has been called the social edition because of its integration into things like Facebook, Twitter, Identi.ca, MSN, and other social network and messaging services.Over in the top right hand corner, you'll see the Me Menu, a one-stop place to update your various social networking sites by updating your local status. Ubuntu's default instant messaging client, Empathy, covers a dizzying array of chat protocols and services. If your friends are on it, it's probably here . . . except for Skype. No, this is not a whine about the lack of credible alternative to Skype in the open source world. In any case, I was talking about Facebook.
As cool as Facebook might be, it can fall disastrously short of other classic means of reaching out to people. Let me tell you the story of an large community organisation that I will call Larcommunorg to protect the innocent, and silly. Larcommunorg has its own domain and has had this domain for a few years now. With the help of tech savvy people within the organisation, they were able to set up a Website with which to communicate community goings-on with their base; let's call them the Community. When all this wonderful network stuff was set up a few years ago, they also create email addresses, with proper domain extensions, so that the Larcommunorg board members could officially communicate with the Community. There were even forums open so that the Community could voice its needs to Larcommunorg and Larcommunorg could, in turn, communicate with the Community.

Then came Facebook. And Gmail. Not necessarily in that order. Larcommunorg decided that a single email address (larcommunorg@gmail.com) was plenty official for dealing with the Community it purportedly served. Second, they abandoned their Website and its Community discussion forums in favor of a page on Facebook. Suddenly, the organisation that served thirty thousand people through its Website opted for less that two hundred 'friends ' on Facebook. Meanwhile, the once important Website, and its domain email addresses, languished and faded into the background. In the purported coolness of Facebook and social networking, Larcommunorg gave up its corporate identity to Facebook . . . and Google. To this day, Larcommunorg tries to figure out why the Community doesn't take them seriously.

The lesson is this (or at least partly this). Great technology and great ideas shouldn't be abandoned just because something new comes along. And just because everyone is 'doing it' doesn't make it a good idea. We humans come up with some great ideas, but we also have an incredible penchant for hanging on to stupid, outmoded, and just plain wrong ideas as well. Facebook is great for keeping in touch with your circle of friends, but it may not be the right tool for reaching out to your greater audience. And that's the good part. The dark side comes with the privacy and personal rights violations of which Facebook is accused every minute of every day. It comes with abdicating your responsibility to your Community and handing it to a third party who sees your Community as nothing more that a source of advertising dollars. Those dollars, on a funny note, are probably dollars that Larcommunorg needs from its Community in order to serve its Community. The dark side also comes with giving up your identity and the identity of your Community, of turning yourself and your people into 'members of the Facebook' community rather than the Community.

The dark side also involves giving up your brand. BRAND, the largest corporate players in the world will tell you, is vitally important. It is your identity and it shouldn't be thrown away because another entity tells you their brand is cooler.

Using technology wisely, you see, goes back a long, long way. In fact, the old adage that recommends 'the right tool for the right job' should probably be enshrined as a natural law. Facebook, and the cool social networking site of the day, may in fact be (for now, anyhow) the coolest ever , but that doesn't mean it's right for your organisation. If you feel the need to get social, perhaps you should consider alternatives that respect your corporate identity and your Community. Incidentally, if you are interested in a credible open source alternative to Facebook (not Diaspora but something that already exists), make sure you pick up Ubuntu User #5 when it hits the store shelves.
Until next time . . .