Karmic Koala; Ubuntu Gets The "K"
Hear that clock ticking? There are only nine days left to the release of Ubuntu 9.10. It's all very exciting and that excitement was bouncing about inside my brain as I drove my son to school this morning. A little ditty was echoing in my mind along with what I might write about the big event, when suddenly it hit me. No, not another car. I was paying attention. What hit me was a fully formed vision of the future, nine days hence. Sort of like what happens on FlashForward, the series based on Robert J. Sawyer's book. Except I didn't black out. I started telling what I saw in my vision to my five year old son who, sitting quietly in the back seat, quietly ignored me.
Say it with me.
Karmic!
Koala!
K!
Those Ks aren't a coincidence. What's going to happen is that Ubuntu 9.10 is the time when Ubuntu switches from GNOME as its default to KDE. Seriously. Think about it.
You know how every other program in KDE starts with a K, right?
Kaggregator. Kaboodle. Kaffeine. Kate. Kaddressbook. Karmic.
Konsole. Korganizer. Kopete. Kontact. Konqueror. Koala.
Suddenly it was all so clear. Mark Shuttleworth and Canonical were going to spring this on people when 9.10 hit gold a few days from now and here I was, driving along with the BIG secret so clear in my mind. I wondered whether I should keep this under wraps but, I reasoned, the public has a right to know.
Here's what you can expect as part of the big announcement by Mark Shuttleworth.First and foremost, I expect a new mascot to be unveiled (I didn't see that in my flashforward), but given that there are still a few days before the big day, I'd like to humbly propose something along the lines of the one I created below.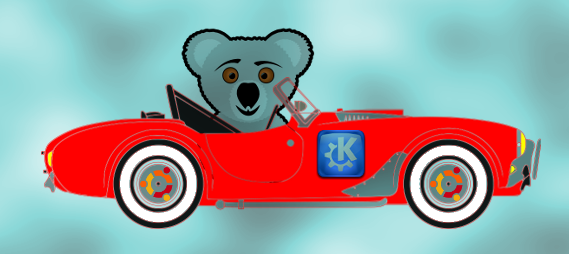 Get it? Kar-Mic Koala. As in car? You know? A koala driving a sports car? Okay, but just give it a few days and I'm sure you'll learn to love it.
Other changes . . . there will no longer be a KUBUNTU since that is essentially going to be what UBUNTU is. Furthermore, since KDE will now be the default desktop for Ubuntu, that what used to be Ubuntu will have to be renamed. My vision tells me that they will go with GNUBUNTU. It makes sense on so many levels if you stop to think about it.
Most of this is good news, but as with most good news, not everyone will be happy. Gnubuntu users will have to get used to a slower release cycle for updates to their favorite desktop. And, sadly, the majority of desktop development resources will now concentrate on KDE development. Programmers who can adapt will, while others will probably have to look for other jobs. This is unfortunate but part of the natural order of things.Besides, the free and open source software community has shown that they, more than any other group of people I know, can adapt, evolve, and emerge stronger, and with cooler software to boot.
Sure, this represents a radical shift in how one of world's most popular Linux distributions will position itself in the near future. Things about bound to be chaotic for a while, but from that chaos will come great things for Linux on the desktop. The media, myself included, will be all over this. There will be press conferences, television and radio appearances by all manner of people associated with Linux, Canonical, FOSS, and the *buntu family. People on the street will be talking about it. Discussions around the office coffee maker will be dominated by this change. A new line of children's toys based on my mascot will naturally follow a few weeks later.
9.10 is coming, and it's going to be great. I know. I've seen the future.
Until next time . . .
Oh yeah. I created the new mascot by manipulating and coloring an SVG line drawing of a Shelby Cobra (found on OpenClipart.org) using Inkscape. I exported it then reimported it in the GIMP. There I mixed in the KDE logo, the Ubuntu logo, a Koala (also found on OpenClipart.org), added an alpha channel to the whole thing so I could delete the background, create a new one with a cloudy background created using the GIMP, and reinsert my koala in his sports car.
Comments
Jokes Are Meant to Be Funny
To bad it is Shuttleworth doesn't get Enlightened
G (Gutsy Gibbon), H (Hardy Heron), I (Intrepid Ibex), J (Jaunty Jackalope), K (Karmic Koala)...
Pretty funny, but just think...