Stop Apologizing For Linux!
And that goes for Canonical and Ubuntu as well. Yeah, I'm talking to you too, so listen up.
Picture this scenario . . .
Say you've got yourself a nice computer, be it tower, notebook, or whatever, and it has a dual core 64 bit chip. It's a pretty cool system and it came with Windows 7. After much hounding and friendly ribbing from your Linux-pushing friend, you decide you're going to load up Ubuntu. So you wander over to the Ubuntu desktop site to download your desktop Linux ISO where it tells you that the 64 bit edition isn't recommended for desktop use (see the image below). You're confused. After all, your computer came with a 64 bit version of Windows. Isn't 64 bits better than 32? Why can't Linux run a 64 bit desktop? You call up your Linux-pushing friend and he doesn't really have a good answer. In fact, he's kind of scratching his head too.


Sometimes, as a long time and, many would agree, enthusiastic proponent of desktop Linux, I just want to cry. Or shout. Or curse. I know the Linux and open source community generally sucks at promotion, marketing, and doing anything else that might help the image of Linux and FOSS, but do we really have to apologize for every little thing, including those that aren't our fault.
In case you haven't figured it out, I would be the Linux loving/pushing friend who talked the 64 bit owning friend into installing Ubuntu; yes, they still went ahead with it, despite the rousing endorsement from the Ubuntu site.
Other than Flash (which mostly works), what are the problems with runing a 64 bit desktop OS on your 64 bit machine? I am writing this on a notebook with a 64 bit AMD dual-core processor with 4 GB of RAM and for the most part, I don't have a lot of gripes. I figure that if I can chat with people on Skype with video, things must be working pretty well. Oh, and Flash is working just fine.
It seems as though Ubuntu is saying, "Yeah, we know we're half way through the alphabet on these animal-themed releases, but we still haven't quite figured out this 64 bit processor stuff. If you want to play it safe, downgrade to 32 bit or run something other than Linux. " No, no, no! Look, if it all comes down to Flash, then add a little note to the effect that Flash has issues, but don't trash yourself, Linux, and FOSS in general by saying the 64 bit desktop release doesn't cut it. That's what we old-timers call 'shooting yourself in the foot '.
There's almost nothing that desktop Linux can't do. A modern Linux desktop is probably a better choice for 95% of the heavy Internet service using population than the big commercial behemoth that dominates the desktop. I'm not saying Windows doesn't have its place or that it doesn't do the job for a lot of people, but Linux is better, faster, stronger, safer, and sexier than anything else out there. It's cool. It rocks. It dramatically increases your sex appeal. And if you've got a 64 bit processor instead of 32, that goes double. What more do you want?
Come on Canonical. Fix that page and edit out that silly message. If you feel the need to warn people about Flash (or whatever the issue might be), then add a disclaimer to that effect. Blame Adobe; it's their fault. Not yours. But go ahead and recommend 64 bit Ubuntu for desktop use. It's a great product. It works. Don't apologize for it.
Conquer Differently
Okay, I just want to tell you about something cool before I wrap it up. In my last post, I was talking about these little projects that are really pretty cool, but nobody knows about them. I asked you if you had some suggestions, all of which I checked into. This is one of them.
It's called Conkeror and it's a Web browser written mostly in JavaScript. Only it's keyboard oriented, devoid of menus and icons, and heavily inspired by Emacs. I may be a 'vim' guy, but I can appreciate a super fast, keyboard driven Web browser as much as the next guy. Maybe even more than the next guy. Just press 'g', enter a URL, and surf, baby!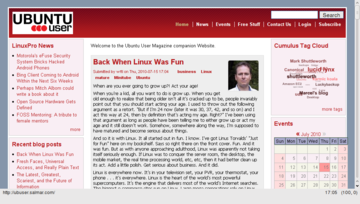 You can install it with Synaptic, KPackageKit, or with a plain old 'sudo apt-get install conkeror'. In any case, you need to try this one out. Enjoy!
Until next time . . .
Comments
Linux may suffer from a lack of quality control
64 bit Ubuntu is not well supported on drivers
Growing Pains and Complaints
if surfing the web & office docs means desktop 32bits is ok
64 Bit experience has hiccups too
I wouldn't know; my laptop is blacklisted.
Add your voice to the bug report
Reason Distributions SUX are why 64 bit are not recommend for desktop.
It's a matter of standards
Uh, 64-bits doesn't equate to needing more memory...
A few comments to other posters...
Good thing 64 bit supports more memory...
I love my 64-bit Ubuntu !!
I'd have to mostly agree with you Marcel...
flash: more than you think
The disclaimer should be...