What Kind Of Bird Are You Booting?
Consider this a Thanksgiving post. I know most of you are away eating, or arguing with family. Up here, in the Great White North, Thanksgiving was back in early October so I'm sort of working today. You might say I'm indulging in a different kind of bird. Just what kind of bird, however, was something I was very curious about.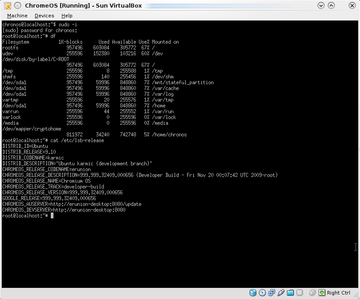 Like many others, I couldn't wait to get my hands on a copy of the new killer OS from Google. I wanted to try it out. Kick the tires. Take it for a spin. That sort of thing.
So I downloaded the VMware image on the site and saved it to my disk, then created a virtual machine inside VirtualBox using the VMDK image as the disk file. Then I booted it and started looking around. It took me about 20 seconds to figure out that the login was my GMail user name and password and I was off.
To be honest, I was only so excited, though I accept that it's early days for Chrome OS yet. But I wanted more. Specifically, I wanted to load it onto a USB key and try it on my Acer Aspire netbook to try it in its natural environment. So I downloaded yet another file, this one designed to create a USB key bootable image. When I looked at the README file included with the large zip file, I saw something that really got me excited.
You can get to a shell by pressing Ctrl+Alt+T . Yeah, baby!!!
Now I could really start having fun. Can I sudo? Yes. The user name is chronos with password chronos. Cool.
df
Cool.
cat /etc/lsb-release
Even cooler. Check out the screenshot to the left of this post. Google Chrome OS is yet another *buntu. Yes, it's Karmic Koala with a different set of feathers.
Happy Thanksgiving!