GNOME Outreach Program for Women - Internship Opportunities Available
Ladies check out these awesome internship opportunities!!! I was so excited when I was forwarded the link earlier I just had to share it.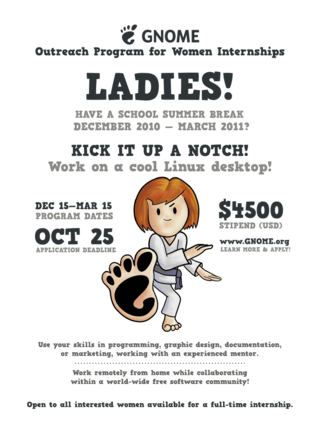 GNOME is an innovative free software desktop. It is easy to use and is the most popular desktop distributed with free operating systems.
In an effort to get more women involved in free software, GNOME project is sponsoring several internships for women from December 15, 2010 to March 15, 2011. The application deadline for the program is October 25, 2010. The applicants need to get in touch with individual GNOME projects ahead of time to decide which project they are interested in working on. The stipend for the program is $4,500 (USD).
Participants will work remotely from home, while getting guidance from an assigned mentor and collaborating within their project's team and the rest of the GNOME community. The projects include developing software for GNOME 3.0 desktop look, games, messaging, document and photo editing. There are also non-coding projects, such as graphic design, documentation, and marketing.
Please visit http://www.gnome.org to learn more and apply. The mentorship opportunities are also available throughout the year for anyone interested in getting started contributing to GNOME outside of the internship program.
For more information go to: http://live.gnome.org/GnomeWomen/OutreachProgram2010