Meet the Platform Team Managers: Pete Graner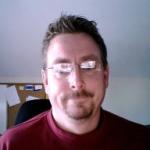 In the first three posts in this series, we heard from Robbie Williamson, David Mandala, and Rick Spencer of the Canonical Platform team. In this latest installment in my Where Karmic's Karma Comes From series, we hear from the Canonical Kernel Team Manager – and my husband – Pete Graner.
In February, Pete handed me an Ubuntu "Intrepid Ibex" CD and a t-shirt that said, "Linux for Human Beings," and I haven't looked back.

Amber Graner: Could you please introduce yourself and tell me a little about what you do at Canonical and for the Ubuntu Project?
Pete Graner: I'm Pete Graner and I manage the Kernel Team for Canonical. I make sure that the team is fouced on the problems and bugs that will make Ubuntu have the best hardware support possible. My team looks after the kernels for Ubuntu, Ubuntu Server, Ubuntu Netbook Remix – basically all the Canonical-supported releases.

AG: Out of all the things in the Karmic release, what are you and your team most proud of?
PG: I would have to say keeping up with the latest and greatest kernel throughout the development cycle of Karmic. Prevously we would select a kernel version at UDS [Ubuntu Developer Summit] that was already released. This cycle we picked a in development kernel 2.6.31. We tracked it through all its release candidates and have kept updating it to the final 2.6.31.4. This provided us with the very latest hardware support, security, and bug fixes possible.

AG: What was the biggest obstacle you faced for this release and how did you over come it?
PG: I would have to say our ARM architecture ports. We were working with our ARM partners (FreeScale and Marvel) all through the cycle; however, we had the expected issues of developing a kernel on hardware that's still in development and changing. Due to some of the idiosyncrasies of the ARM architecture, we learned quite a bit about how to mange multiple ARM ports in our source code repositories. We fixed these issues by working more closely with our partners ensuring we had good communication so that once an issue was identified we could tackle it together. The source trees were fixed by moving the ARM arches out of the the x86 tree and into their own tree. This avoided some of the core kernel clashes that were very hard to deconflict.

AG: What can be expected from you and your team for Lucid Lynx, Ubuntu 10.04?
PG: The latest and greatest kernel, likely 2.6.33. We continuely strive to have the best install experience where the users hardware "just works." So we will be targeting consumer netbooks and popular notebooks. Along with the always-popular: make sound and suspend/resume work better.
AG: Understanding that every developer and community member's contribution and participation is appreciated, but if you had to name a "rockstar" that helped Karmic's Karma Rock, who is it and why?
PG: Daniel Chen, one of the Ubuntu community members, stood out this cycle. He took on the audio challenges across both kernel and userspace (PulseAudio) and made a heroic effort on the simplification of sound. Great work, Daniel!
AG: How and where you would encourage more community contributions?
PG: For the kernel, that's a bit hard. Most of the people that really have the skills to make the kernel better are working upstream on the mainline Linux kernel. With that said, if you're a Daniel Chen type and have a passion and want to help out, let us know. The Kernel Team would love to mentor and support more people in testing. The more people we have testing our Alpha releases, the better the final will be. We can always use help with bug triage and patch hunting. If you're interested, hop on IRC. We are on FreeNode in the #ubuntu-kernel channel.

AG: When you think of the Ubuntu Community and the Spirit of Ubuntu, what comes to mind and how do you foster that within yourself and your team?
PG: Wow, what a deep question. Basically we give 100 percent to making Ubuntu the best Linux Distro on the planet. I'll go even further – the Best Operating System on the planet. We stress community, openness, and giving back upstream where and when we can.
AG: Pete, Thank you so much for taking time for this interview. I know that with Karmic's final release, you and the other managers are getting that final polish on Karmic so the rest of us can enjoy, use, and appreciate "the Best Operating System on the planet."
More information about the Kernel Team can be found at: https://wiki.ubuntu.com/KernelTeam. For more info on how you can participate in and contribute to Ubuntu, visit: http://www.ubuntu.com/community/participate.