Ubuntu Opportunistic Developer Week
The Ubuntu Opportunistic Developers will be enjoying a week of programming fun as Ubuntu Opportunistic Developer Week (UODW) kicked off at 4pm UTC today March 1st and concludes on Saturday, March 6th at around 8pm UTC.
Last week on March 25, Rick Spencer, Canonical's engineering manager for the Desktop conducted two classes -- Python for Beginners and Python for Programmers preparing those who are new to programming and python to get the most out of each session. No worries, if you didn't get a chance to catch these classes as logs will be made available soon.
The wiki describes Ubuntu Opportunistic Developer Week as a week of sessions aimed at enabling and inspiring opportunistic developers to write applications that scratch their itches. Our goal is to give all attendees a taste of the wide variety of tools on the Ubuntu platform that can be used to create awesome applications, and to showcase some applications that have been created and explain how they were put together.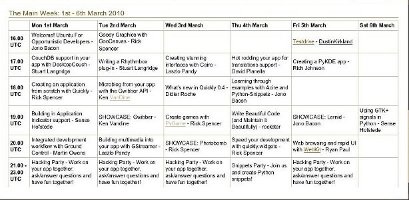 Here is a look at the schedule for the week. Take a look and see if there is something for you.
Classes will take place in #ubuntu-classroom and #ubuntu-classroom-chat on freenode.net. Another option is the awesome classroom program called Lernid. Lernid is a tool that makes connecting to online learning events such as Ubuntu Opportunistic Developer Week simple, easy and fun. Lernid gets you immersed in the content quickly and hassle free.To get Lernid or to learn more about Lernid click here.
Another great thing about this week, is it is a goal in action. Jono Bacon, Ubuntu Community Manager, was interviewed before Ubuntu Developer Week -L and was asked about his goals for the Lucid cycle. In this interview he stated that, "In the Lucid cycle we are really keen to focus on growing our developer community and working closer with upstreams." Looks like the developer community should get a boost this week for sure.
I can't wait to see all the interesting applications, ideas, refinement of existing programs and more that comes out of this week, but I am not the only one. Jono Bacon is conducting a Grand App Writing Challenge to encourage folks to get excited about writing applications. Good Luck to those entering the challenge.
All those who are attending and participating in Ubuntu Opportunistic Developer Week let readers know why they should participate as well. Comments can be made here on the blog or email me: amber AT ubuntu-user DOT com.